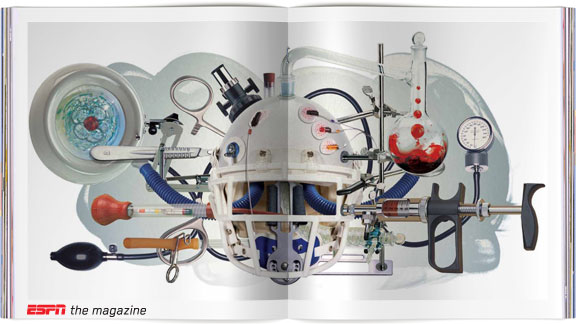 There are doctors out there who know a lot more than our trainers," the veteran Washington Redskins receiver told FOXSports.com "Guys who play on this level, want to stay on this level and they're going to seek the extra help. I just go and let whoever can fix me, fix me."
Moss said he understands why Indianapolis Colts quarterback Peyton Manning went to Europe and free-agent receiver Terrell Owens went to Asia for stem-cell treatments that are banned in this country.
"I know oversees has a lot of stuff hasn't been brought here yet," said Moss, who went to Galea after knee surgery. "When you are a professional athlete and you get paid the money that you get paid, it's up to you how you spend the money. You want to make sure you're right, and you want to show your team you're worth the money that they give you. You want to be fixed up and show you're always valuable and always ready to go, and your team shouldn't doubt you for that."
Stem cell therapy is the just the latest in a line of treatments athletes have sought overseas.
Detroit Tigers right fielder Magglio Ordonez went to Austria in 2004 to have shockwave therapy performed on his knee. Los Angeles Lakers guard Kobe Bryant had platelet-rich plasma (PRP) therapy — where blood is taken from the patient, spun in a centrifuge, and the mix of plasma cells and growth factors are injected into the injured area — on his injured right knee in Germany over the summer. (Doctors in the US are also allowed to perform PRP therapy.)
Besides Manning and Owens, New York Yankees pitcher Bartolo Colon also underwent stem-cell treatments on his ailing shoulder in 2010.
In Major League Baseball, a player cannot get treatment for a work-related injury without the club's consent, league spokesman Pat Courtney said. Colon, however, was a free agent at the time, so no approval was needed.
Stem-cell therapy and PRP therapy don't violate the drug policies of any of the major sports in the US, although NFL commissioner Roger Goodell said players should do some research.
"Players have the right to choose their medical care," Goodell said. "They are going to have to make those decisions. We hope that when they make them they are well-informed as to what effects the treatments they are pursuing have. You have to know who you being treated by and what you are treated with. That's the responsibility of the players if they are going to go outside the system."
Stem cells are the "it" rehab path at the moment, and the stem-cell debate — which grew heated a few years back and led to President George W. Bush banning research of new stem-cell lines — has quieted some as cord blood stem cells and stem cells from dental pulp have been found. The Bush ban was later overturned by President Obama.
"Facilitating the development of innovative therapies to address unmet medical needs is a high priority for the FDA," said Shelly Burgess, spokeswoman for the organization. "Product safety and human-subject protection are the agency's primary concern."
Stem cells — which are valued because they can morph into any type of cell once in the body — For decades, doctors have harnessed the unique ability of stem cells to treat cancer and genetic blood diseases using therapies such as a bone marrow transplants which is a type of stem cell therapy. Today, over 1,700 clinical studies are under way, demonstrating the use of stem cells to treat diseases, to heal injuries, and to grow replacement tissues like tendons, muscles, and blood vessels.

"As long as it's legit, I'm down to get fixed," Moss said.
The full story on Manning can be found here...
To learn more about how you can bank your own stem cells for future treatments download a comprehensive information guide.